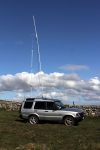 Can I join?
Anyone can be considered for membership, though most members have a strong interest in amateur radio. Most members have an Amateur Radio Licence (not the same as a CB Licence).
---
Can only licensed amateurs join?
No, people without a Licence are welcome and can play an active part. Most such members aim to pass the Radio Amateur Examination and get their Amateur Radio Licence. Foundation licence holders can play a part with RAYNET they can operate a some low powered checkpoint or under the supervision of a full licence holder they operate control. You can take your Amateur Radio Licence at the Keighley Amateur Radio Society.
---
What is expected of members?
Members are expected to try and provide their own equipment. (Keighley RAYNET Group does own a limited amount.) and to attend some events each year.
---
What can you expect to get out of it?
You can expect to get a lot of operating experience,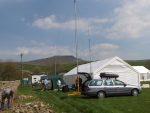 passing messages for others. (If you have never really enjoyed chatting on a net, you may well find you enjoy operating a lot more when there is a purpose to it.) You may find that your operating practices improve as you find your shortcomings under heavy traffic conditions. You will probably find that you decide to build a lot of minor pieces of equipment – power leads, battery boxes, adapters of various kinds … (If you have never got round to building things, you may find that this gives you the incentive to get started.) You will also get an excuse to use your radio equipment in the attractive environment of the Yorkshire Dales, meeting and working with different people. Walking, maybe a night or two camping and operating though the night on long events
---
How Can I Join?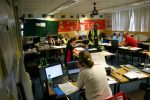 The easiest way to join is to come to on Thursday
Society nights at 20:00 Keighley Amateur Radio Society meetings
Subscriptions for all new member's will be £10.00.
£10.00 will be refunded at the end of the first year it you have attended three or more Events.
---
Email Us
Send an email to the Keighley RAYNET Committee